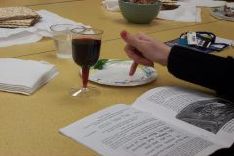 We've included a few notes to help you get a better sense of how we prepared for the Seder dinner.

Here's our list of things to bring:
paper plates (small)
paper plates (for dinner)
plasticware
plastic wine glasses
plastic regular glasses
plastic bowls
seder plates
candles
matches
white napkin
haggadahs (see below for more details)
Food items for the ceremony:
charoset
horseradish
grape juice
matzos
parsley
boiled eggs
salt
shank bone
Food we brought for snacks and our dinner together:
hummus
veggies
fruit
fruit dip
chocolate cake (see the recipe for this, below)
strawberries
cheese
crackers
matzo ball soup
pitcher and water
Here are a few resources I've found to be most helpful:
Online —
Messianic Haggadah
Preparing for a Passover Seder
Downloadable Haggadah

Recommended books —
Passover Haggadah: A Messianic Celebration, by Eric-Peter Lipson
Christ in the Passover, by Ceil and Moishe Rosen
Last — but not least! — let me share a great recipe for a chocolate cake that's suitable for a Seder (because it's unleavened), but that's so tasty it would be great on any occasion.
Passover Chocolate Torte with Raspberry Sauce
Source: Bon Appétit, April 1999 (via Epicurious.com).
Perfect for the Jewish holiday, this flourless torte has an airy soufflé-like texture. The sauce adds a special-occasion touch.
8 ounces bittersweet or semisweet (not unsweetened) chocolate, chopped — I just used chocolate chips
1 cup (2 sticks) unsalted kosher-for-Passover pareve (non-dairy) margarine — I just used regular butter
8 large egg yolks
1 cup plus 1/3 cup sugar
5 large egg whites
A paper doily
Fresh raspberries (optional)
Raspberry Sauce (see separate recipe below)
Preheat oven to 350°F. With parchment paper, line the bottom of a 9-inch-diameter spring-form pan with 2.75-inch-high sides. (I used a regular 9" round pan — it looked a bit funny when it came out, but it still tasted good!) Stir chocolate and margarine in heavy medium saucepan over low heat until melted and smooth. Remove from heat. Cool until lukewarm.
Using an electric mixer, beat yolks and 3/4 cup sugar in a large bowl until pale and very thick, about 4 minutes. Add chocolate mixture in two additions and beat until well blended. Using clean dry beaters, beat the egg whites in another large bowl until foamy. Gradually add 1/4 cup sugar and beat until the whites are stiff but not dry. Fold one-third of the whites into the chocolate mixture. Fold in the remaining whites in two additions. Transfer batter to prepared pan.
Bake torte until crust forms on top and tester inserted into center comes out with some moist batter and some moist crumbs still attached, about 55 minutes. (The top may crack). Run a small sharp knife around torte to loosen. Cool in the pan on a rack (the torte will fall and crack). Remove the pan's sides (if, unlike me, you used a spring-form pan). Invert the torte onto platter. (This can be prepared one day ahead. Cover with a cake dome and store at room temperature.)
I omitted the following part (I just garnished it with chopped strawberries): Grind 1/3 cup sugar in blender until a fine powder forms. Place the doily atop the torte. Sift ground sugar over doily; gently remove doily. Garnish torte with optional raspberries. Serve with Raspberry Sauce.
Serves 10.
Two 12-ounce packages frozen unsweetened raspberries, thawed, with juices
1 cup sugar
Purée the raspberries with juices and sugar in a processor until smooth. Transfer mixture to a strainer set over a bowl; press on the solids to extract as much liquid as possible; discard solids in strainer.
This can be made two days ahead. Cover and refrigerate.
Makes about 3 cups.